NEWS 2016
---
MARTIN HALL AT BANDCAMP (24-11-2016)
Stream and listen to a large selection of Martin Hall solo albums and related side projects at Bandcamp. All titles are available as both physical and digital albums at the site. If you acquire a cd or vinyl version, you automatically get the record as download as well.
At Bandcamp you can furthermore buy downloads in the FLAC format (audio files in a much quality than the mp3 standard).
You can use Visa, MasterCard and several other credit cards on the site. Obviously it's also an option to pay via PayPal.
---
HALL AT POL PLUS NOVEMBER 10 (01-10-2016)
On November 10 at 7.30 PM writer and journalist Martin Kongstad meets Martin Hall in Pressen, Politiken Hus, Vester Voldgade 33, Copenhagen. The evening will be Hall's only appearance for the rest of 2016.
Martin Hall had recently finished written an autobiographical book about his early years, a book that begins in 1972, when he as a boy lived in Spain during General Franco's reign and ends with his mother's suicide in 1984. The book was set to be released in September 2016, but a week before deadline Hall chose not to sign the contract anyway. Why?
Among other subjects this evening's talk will revolve around privacy in relation to the public life of an artist. Hall has in recent years abandoned an at times extremely visible and outgoing career to focus on a far more reflective process these days. Recently he wrote the music for Ingvar Cronhammar's highly acclaimed "H" installation in The Cisterns, one of last year's most visited art events in Denmark, but has only appeared in public on a few occasions since then.
More information about the night is available here:

Photo: Shixin Liang.
---
'CHANGES' – NEW ANTHOLOGY (30-09-2016)
The Danish book Changes is a literary statement about David Bowie's legacy written and edited by the Danish journalists Klaus Lynggard and Henrik Queitsch. The title will be released on November 1, 2016.
Originally the book was planned to mark the singer's 70 year birthday in January 2017, but when Bowie died in the beginning of 2016 the editors wanted the writing to become a collective memory written by a line of Danish artists and journalists.
Apart from the two main authors the book includes reflections and essays written by contributors such as Martin Hall, Asger Schnack, Kristian Leth, Benn Q. Holm, Ralf Christensen, Jakob Levinsen, Lars Movin, Jens Unmack, Jan Laursen, Bo Green Jensen, Signe Høirup Wille-Jørgensen, Søren E. Jensen, Lars Bukdahl, Nicolaj Stochholm, Katrine Nyland Sørensen, Anna Ullmann, Anne Sperling, Pernille Jensen and Kira Skov. The cover is made by the Danish painter Lars Ravn.
The book is released by Turbine. You can find further information about the release here.
Martin Hall/Henrik Queitsch radio interview about the book:

---
'ROMANTIC' – A THEATRE PLAY (19-09-2016)
On Saturday, October 15th, at 20.00 CET Poetic Theatre's new performance Romantiker ("Romantic") premieres at The House of Poetry at Den Frie in Copenhagen. The play is based on the words of Morti Vizki, Michael Strunge and Lene Henningsen and uses the music of Martin Hall.
Romantiker also plays the 18th, 19th and 20th October. You can find more information here.
Installation: Marianne Grønnow. Actors: Mia Lerdam, Ulver Skuli Abildgaard, Mette Frank Director: Mia Lipschitz. Producer: CPS/Cultural Projects Service and Poetic Theatre.
---
HALL IN ST. THOMAS CHURCH ON JUNE 24 (01-06-2016)
On Friday, June 24th at 20.00 CET Martin Hall performs in St. Thomas Church on Frederiksberg at a spoken word séance. The event is held in connection with The Night Church.
On this occasion Hall will be accompanied by multi-instrumentalist Johnny Stage. It's not allowed to take photographs or videotape during the evening.
Further information available here: Sankt Thomas Kirke.
Foto: Shixin Liang.
---
MARCEL DE SADE AT CPH MAIN LIBRARY (10-05-2016)
In DRK's new series about the history of classical music in Denmark, The true Marquis – fragments of a life, Copenhagen Main Library arranges a night in company with the 82-year old myth himself. The event is scheduled for June 4 (Saturday) at 7.30 PM. You can get tickets here.
On this occasion you can also meet Martin Hall, one of the few guests selected for the evening. Among other projects Marcel de Sade and Hall has recorded the song "Tout le Monde" together, a track that can be found at MH's 2007-box set Catalogue.
You can find the library's Facebook notice for the evening here.
More information about Marcel de Sade is available here:

---
HALL IN KULTURRÅDET AT DR (14-04-2016)
Martin Hall will be guesting DR's Kulturrådet (Danish Broadcasting Corporation's weekly cultural "What's On") on May 3 at 9.00 PM to review Eva Tind's new book Asta's Shadow, a literary biography about the Danish silent film actress Asta Nielsen (1881-1972), "Die Asta".
Asta Nielsen experienced her breakthrough in 1910 with the film The Abyss, a film that also became Danish silent film industry's big European break. In the following years she became an international star, but her film career ended abruptly after World War II. During the last 30 years of her life she lived without contact to the cultural establishment in Denmark, only surrounded by a few close friends until her death in 1972.
The photo of Martin Hall is taken outside Asta Nielsens Berlin residence at Fasanenstraße, where the actress lived between 1931 and 1937, during a stay at the address in 2014. The picture is taken by Maiken Kildegaard.
---
LITERATURE SALON #1 (23-02-2016)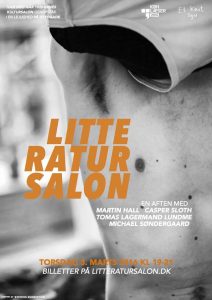 On Thursday March the 3rd from 7.00 PM to 9 PM Literature Salon #1 is held in an apartment somewhere on Vesterbro. The organizers describe the evening with the following words:
"Get the sense of literature under your skin and join us when the 1920's salon tradition reappears in an apartment on Istedgade. Authenticity and presence are keywords when a handpicked selection of authors and other cultural figures reads out selected works in an intimate and homely atmosphere. Experience the author and musician Martin Hall, dramatist and visual artist Tomas Lagermand Lundme, poet and actor Casper Sloth and film artist Michael Søndergaard investigate The Romantic Man in all aspects of the term.
1) Shoes need to be left outside the door.
2) Phones need to be switched off.
3) During the night there'll be served wine and bread."
Literature Salon #1 is organized by ET KØNT SYN under the literature festival KBH READS. The event is supported by The Danish Arts Foundation. Read more here.
---
MARTIN HALL ABOUT EMP 1924–2016 (20-01-2016)
On the 18th of January 2016 legendary Danish avant-garde composer Else Marie Pade died. EMP was born in 1924 and was an active part in the Danish resistance movement during WW2. She got arrested by Gestapo in 1944 and was imprisoned, but survived the war. At the end of the 50's she began pioneering electronic music and was a student of Karlheinz Stockhausen during the 60's. You'll find a full description of her life at Wikipedia.
In 2003 she was rediscovered by a new generation of young laptop composers. Martin Hall collaborated with EMP in 2007 and she's featured on both his Catalogue and Hospital Cafeterias albums. You can hear one of their works together on the track "P.O." here:
Very surprisingly the video caused quite a media stir at the time of its release – as an example YouTube banned the recording due to its "offensive content" (quite thought-provoking since current videos with executions of civilians as well as sexist pop-standards caused no censorship).
Martin Hall is featured in recent DR and GAFFA articles about her:
---
HALL IN BOWIE NEWS FEATURES (12-01-2016)
Martin Hall was interviewed alongside the Danish newspaper Politiken's cultural editor Rune Lykkeberg (the Danish equivalent to The Guardian) in the news programme Deadline on Danish national television in relation to David Bowie's death on January 11, 2016. The show's host is Nynne Bjerre Christensen.
You can see the 15 minute feature here:


On February the 8th Hall furthermore participates in Politiken Plus' big Bowie arrangement at Pressen, Politikens Hus, where the singer's work and life will be discussed. The panel consists of Martin Hall, poet and publisher Asger Schnack, music journalist Pernille Jensen as well as moderator Kim Skotte.